Why Old Restaurant POS Systems Won't Cut It Anymore
As a restaurant owner, there are three things you need to accomplish for your business to be successful. You need to seat customers in a timely manner, bring quality food within the expected amount of time & offer the check when it's time to leave. 
In each of these three routine tasks, there is one constant variable: time management. And taking too long on any one task can cause a customer to leave your restaurant with a bad taste in their mouth even if your food is phenomenal. 
Technology Keeps The Restaurant Industry Running
To this end, modern restauranteurs rely on technology to keep the front & back of the house connected. Specifically, point of sale systems help managers get customers seated, fed & out the door with receipts in hand.
But the restaurant industry is somewhat behind the curve when it comes to restaurant management tools. A lot of our own restaurant marketing clients are still using legacy POS systems (Micros, Aloha, POSiTouch) that require an on-site server. 
Not only does this infrastructure leave your business vulnerable to significant downtime, but it's also an archaic way to manage a restaurant, especially in an age when there is an abundance of restaurant management tools that improve customer experience. 
The rest of this article explains why your old restaurant pos system won't cut it anymore & how you can update yours. 
On-Site Server vs Cloud-Based POS
The primary difference between old restaurant POS systems & new ones is how they are hosted.
Specifically, legacy POS systems are hosted on an internal network by an on-site server, whereas newer, cloud-based POS systems are hosted on the web in the cloud.
In the advent of electronic payment technology, on-site infrastructure made sense because an internal network offered unparalleled speed & security at the time. 
However, due to advancements in technology, cloud computing has become the standard for delivering software & storing data. 
We'll now discuss some of the implications of on-site vs cloud-based hosting. 
When discussing old restaurant POS systems & their cloud-based alternatives, the elephant in the room is the topic of updates. You see in order to update an on-site server, an on-site visit is required. Shocker!
A cloud-based system, on the other hand, can push updates to your POS as often as needed. All you need to do is restart your device & wallah! Your device is running on the most current version. 
Therefore, many legacy POS users will operate for years with outdated software, whereas a cloud-based user will always be operating on the most current version.
If you value user interface at all, then a cloud-based option is the right move for you!
Another big issue is the ramp-up time of a legacy POS. And while this may not pertain to you, new businesses fail to realize that the onboarding process for a legacy POS is substantially longer than that for a cloud-based system. 
On the flip side, many established restauranteurs are afraid to ditch their old restaurant POS because they fear that the process is going to be long, involved & painful.

But actually not so much. 
Once provisioned to your merchant account, a cloud-based system is an out of the box solution. And after some simple configurations, such as adding menu items & setting up an employee management system, you're all set!
In fact, we even build menus for our clients so that all they have to do is attend a quick over-the-phone training with one of our deployment specialists.
The upfront costs of a legacy POS are going to be substantially higher than that of a cloud-based option. The main reason for this is the cost to set up an on-site server. 
Most of the costs in a cloud-based option will be subscription costs. However, they will be minimal compared to the annual average of a legacy system. 
To put things into perspective, the annual cost of a legacy POS can be as high as $50,000 a year whereas the annual cost of a cloud-based system generally starts at $600. 
All of this technical talk is helpful, but let's not lose sight of what really matters: keeping your restaurant running. 
Therefore, it's important to think about those what-if scenarios like what happens if my internet goes down or what happens if my power goes out temporarily?
For legacy POS users, if the on-site server ever goes down, then you are toast. However, cloud-based users have quite a few more options because they are not limited by an internal network. Rather, all they need to do is connect to the cloud in order to be fully operational. 
In the case that your internet is down, many cloud-based POS systems have an offline mode that'll allow you to process payments. All you need is a 3G-enabled device.
For this reason, we recommend that our restaurant clients have some 3G-enabled devices on reserve to keep things running when there is an unforeseen power or internet outage. 
Although most restaurant POS software will more or less have the same set of core functionalities, a cloud-based system will often have a third-party app market that'll supply you with the additional features you need to organize your business with one system. 
Not to mention that there are tons of applications to help streamline routine processes, such as inventory management, inventory tracking, employee time tracking, waitlist management, & text message marketing.
We even built our own customer loyalty application that pairs with Clover POS, allowing restaurant owners like you to send out automatic text message offers to your current customers & increase sales. 
The connected business owner
One of the last pressing limitations of a legacy POS is the lack of connectivity to your business' data. You see, since a legacy POS runs on an internal network, you cannot access sales data when you need it most. 
All of a legacy system's data is stored on a local computer at your restaurant. 
Cloud-based systems, on the other hand, offer real-time connectivity to your business' data so that you can make informed decisions even when you're not at your restaurant.  
COVID Has Taught Us The Importance Of Flexibility
As we now know, the businesses that are able to adapt quickly are the ones that are more likely to stay open. A cloud-based POS offers you the flexibility you need to add a new payment method or feature & react quickly. 
And even better yet, cloud-based systems make it easier for you to add new devices, which can be extremely helpful if, all of the sudden, you have to take payment at the curb for example. 
What A Great Cloud-Based POS Can Offer Your Business 
A great cloud-based POS system does a lot more than accept card payments. It'll also accept NFC payments, such as Apple Pay or Google Pay, & gift cards as well. 
But stop thinking of a POS system as a single device because it's not. The modern POS system is a series of connected devices that'll help you better serve your customers at your bar, in your dining room, or on your patio. 
With that being said, we urge you to design a system that'll help your restaurant reach its full potential. Mix & match multiple devices to find the perfect fit for your staff & physical layout. 
If you'd like to learn more about our services for full-service restaurants, visit our website. You can also schedule a free consultation during which we'll get to know your business & figure out the services to achieve your goals.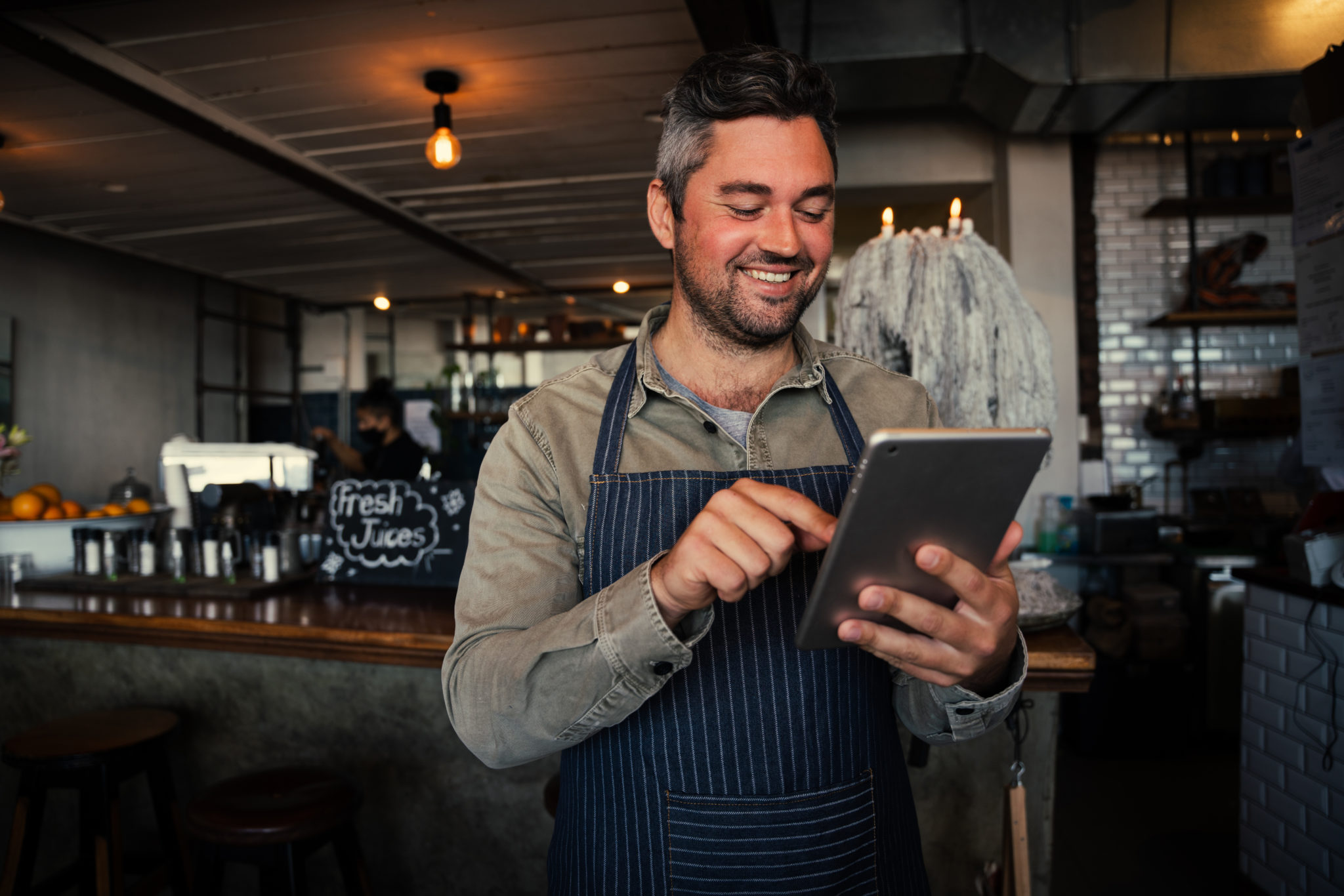 The worst action is inaction! Our team is ready to find your next big move. Over 20 years of experience means we have the tools to get it done in your local market.