Drive Post-Purchase Engagement With Automated SMS
Use the power of a fully automated business text messaging service to keep the conversation going.
The Majority Of Your Revenue Comes From Your Most Loyal Customers
Reward Them So You Don't Lose Their Business To Competitors
You've succeeded at getting customers through the door, but how are you going to keep them coming back? Unfortunately, great service is not always enough to keep your customers coming back. Some people need to be reminded about your business in order to come back again. And again…and hopefully again! 
With customer retention in mind, our SMS marketing services are the perfect addition to any marketing toolbox. Create & send out customer offers to your customers to keep your business top of mind & incentivize them to return.
Two Ways To Opt In Customers
No More Spreadsheets. Notepads. Or Saved Contacts On Your Phone.
Custom Keyword + Short-Code
Texting Software For Your Business
Your customers can opt-in to your SMS loyalty program by texting a unique keyword of your choice to our dedicated short-code. Once our system receives the text, they'll be opted into your program automatically.
As a part of our SMS marketing service, we'll also provide you with custom signage & promotional material to promote your loyalty program.
If you have Clover POS, we'll send you a customer-facing tablet (included in our integrated SMS marketing service for no additional cost).
During checkout, your customers simply enter their phone number into the tablet. Then, they'll be entered into your system automatically.
Once opted-in, you can send your customers offers based on sales data & track offer redemptions from your personal dashboard.
Stop Using Your Smartphone To Send Marketing Messages
Our Mass Texting Service Has Every Tool A Business Needs
Mass Text Messaging
Want to send a text blast? Our dashboard makes it easier than ever to segment your contacts into groups & send texts in bulk.
Recurring SMS Texting
Recurring messages are the lifeblood of a successful campaign. Automate your campaigns with daily, weekly, or monthly offers.

Custom
Messages
Notify your audience about limited-time offers, upcoming events, or anything else that you want to promote! With TAP Text, the possibilities are truly endless.
Scheduled Messages
Craft the perfect message, schedule it & forget it. Our system allows you to do all your "marketing work" ahead of time.
Get More Positive Reviews
Build Your Online Reputation
A great add-on feature to our texting software for business is review generation. Simply configure your dashboard for review generation by connecting your Google My Business, Facebook business page or TripAdvisor account.
After you've customized your review request message, your unique review generation link will automatically be sent out to your customers when they opt-in. 
But don't worry, our technology will screen your customers before directing them to review sites, giving you the ability to mediate unsatisfied customers before a negative review is left in a public forum.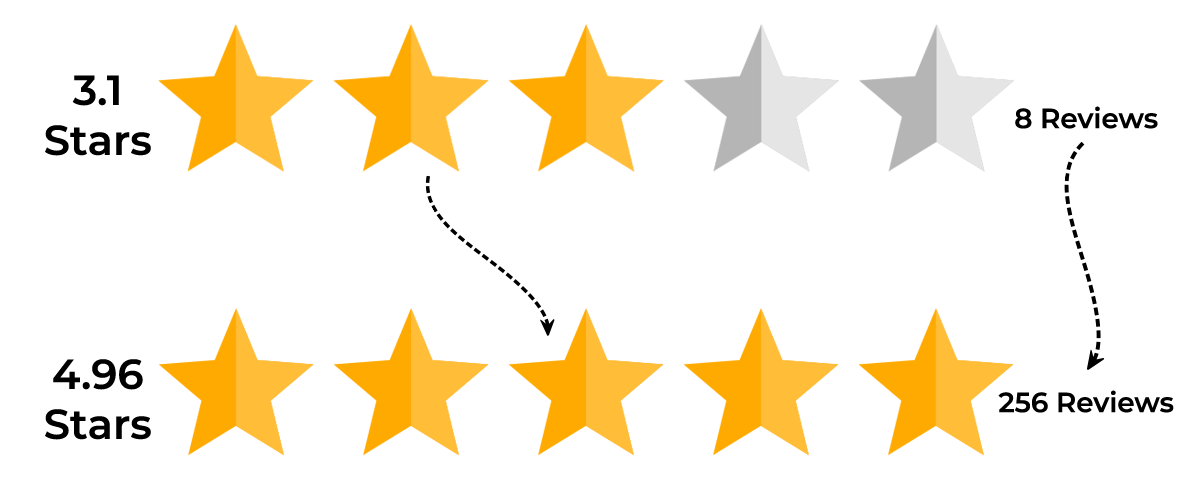 Integrate Your POS & Text Message Marketing
We took an already great POS and made it even better by developing our very own marketing application on Clover Point of Sale. Accompanied by our customer-facing tablet, TAP Text is perfect for any pay-at-the-counter business that wants to engage customers after they walk out the door!
Our SMS Customers Generate An Average ROI of Over 1000%
Drive More Revenue Per Customer With SMS Marketing
Have Something To Say To Your Customers?
Texting Is Better Than Email
Unfortunately, the sheer volume of emails that are sent daily has rendered email marketing largely saturated and ineffective, especially for businesses like yours that more often than not have thousands of dollars to invest in enterprise-level email marketing technology.
Not to mention SPAM filter algorithms can make deliverability a constant issue if you don't know what you're doing.
As you can imagine, text message marketing has a higher open rate and ROI than email. In addition, your customers prefer the convenience offered by text, making our SMS marketing service a no-brainer for businesses that want to increase sales while maximizing ROI.
75% Of Millennials Prefer Surveys & Promos Over Text
Average Open Rate Of Text Messages
Average ROI On Text Message Marketing
Average Open Rate Of Emails
Don't Know What To Send In A text?
Start With Anything That Helps Your Business Grow
Promote
Trigger offers based on actual interactions your customers have with your business.
Notify
Have an upcoming event or business update? Increase attendency by letting your customers know.
Generate
Ask your customers for reviews after a visit. In doing so, you'll get more positive responses.
Our Customers Have Great Things To Say...
Hear From Some Of The 10,000+ Businesses That Are Killing It With TAPLocal!
Ready To boost Your Business?
Get Started In 10 Minutes Or Less
Scan Your Business
Run your free business report to see how you currently show up online & size up to the competition in your market!
Create Your Account
From sales data to marketing, TAPLocal gives you every tool you need to manage & grow your business.
Sit With An Expert
Don't know where to start? Sit with our team of local business specialists to talk strategy & identify growth opportunities.