Want More Positive Reviews?
Automate Your Review Management
People rarely go out of their way to say something nice. Get the stars you deserve with end-to-end reputation management!
Rather speak with a local business expert?
We'll use your email to make sure that you get trial access to our dashboard, but if you want to take a look at our 'legal stuff', you can view our legal page here.
Tired Of Being A Bystander?
Control The Conversation Surrounding Your Brand
Nowadays, sites like Google rely on your reviews to tell them if your business is a good fit for a related search. If you don't have reviews, Google may not think that you're relevant. Therefore, generating more positive reviews, responding to them, and stopping negative reviews before they're left online is crucial. 
Fortunately, you can get more positive reviews & fortify your online reputation with our review generation technology. When it comes to your business, you need to be a part of the conversation (wherever it is). And that's where we come in.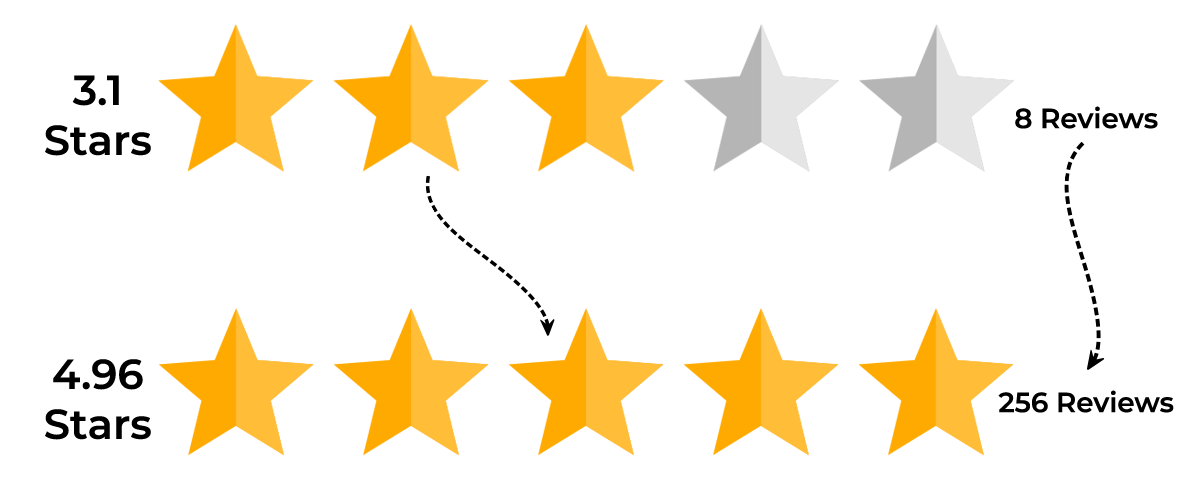 From Review Request To Response
TAPLocal Gives You A Say Every Step Of The Way
1. Collect
Collect your customers' phone numbers using our integrated or non-integrated opt-in methods.
2. Request
Configure your dashboard for automatic review requests to be sent to your customers after they leave your business.
3. Screen
Stop negative reviews before they happen by managing & mediating negative customer feedback before it's left on review sites.
Stop Them Before They Happen
Getting more positive reviews for your business is a priority, but we also help you prevent negative ones with our proprietary review screening system.
Every time you send a review request, we'll ask your customers how their experience was before routing them to Google, Facebook, or Tripadvisor.
Customers who give a positive response will be redirected to review sites, while negative responses will be sent to you directly – giving you the opportunity to mediate disgruntled customers.
In doing so, you can ask for reviews from your customers while keeping your reputation squeaky clean.
How Important Are Online Reviews?
They're The Reason You're Not Being Picked
90% of people check online reviews before A Visit
This means that, if you don't have a positive review or any reviews at all, people will move onto the next possible option. In addition, search engines & online directories use the amount of reviews you have as a ranking signal. Therefore, lack of reviews will begin to hurt your search engine ranking over time.
Customers expect you to respond to their reviews
53 percent of surveyed customers said they expect a business to respond to a review within a week. However, 63 percent of those same people said that a business has never responded to their review. As such, reputation management can help you stand out from the competition.
Introducing Direct Payment Solutions
Less parties involved in your payments means less hands in your pocket. When you 'process' with us, you only pay for the actual processing of credit card transactions.
Why TAPLocal Review Management?
Unlock A Complete Process For Boosting Your Reputation
Ask For Reviews
Face it, your customers rarely go out of their way to say something nice. So you have to ask! Use the power of text message marketing to ask your customers to leave a positive review for your business. They'll then be routed to a review site.
Stop Negative Reviews
Stop negative reviews right in their tracks. Our proprietary review suppression system asks your customers for their review before sending them to the review site. Giving you the ability to stop negative feedback before it gets online.
Make A Great Impression
Your customers will research your business before making a buying decision. In fact, 82% of surveyed consumers say online reviews influence their purchasing decisions. Don't lose those customers to your competition.
Hear From Some Of The 10,000+ Businesses That Are Killing It With TAPLocal!
Our Clients Have Nothing But Good Things To Say...
Ready To Boost Your Business?
Get Started In 10 Minutes Or Less
Scan Your Business
Run your free business report to see how you currently show up online & size up to the competition in your market!
Create Your Account
From sales data to marketing, TAPLocal gives you every tool you need to manage & grow your business.
Sit With An Expert
Don't know where to start? Sit with our team of local business specialists to talk strategy & identify growth opportunities.