Clover vs Square: Pricing, Software & Hardware
The Great Debate In Payment Processing
"If you own a business, you need to read about the Clover vs Square debate. Believe me. It will pay off."
Generic claims such as "product A is better than product B" are often rooted in opinion. And surely the needs of one business owner may be different than the needs of another. 
The goal of this article is to equip you with the unadulterated facts on the matter. After reading, you'll walk away with an understanding of the primary differences between Clover & Square. 
We hope that you'll be in a better position to decide which is better for your business.
The Elephant In The Room: Who Can You Process With?
One of the biggest differences between Clover & Square is that you must process transactions with Square in order to use their hardware. On the contrary, Clover allows you to process transactions with anybody in their partner network. 
What this means is that you have more buying power as a Clover merchant & can find a payments company that best suits your needs as a small business owner. 
The main reason for this is that Clover initially started as a hardware company & merged with First Data Corporation in December of 2012. For those of you who don't know, First Data Corporation (now called FiServ), is a payment processor that accounts for nearly $2.2 Trillion dollars in debit & credit card transactions annually. FiServ accounts for a huge majority of market share in the United States. 
First Data relies on the ISO model for the sale & distribution of its financial products. Therefore, you don't need to open a merchant account directly with Clover (or FiServ for that matter) in order to use Clover hardware to process transactions in your business. 
Square, on the other hand, is a payment processor/hardware manufacturer & requires that their customers solely work with them as a result. 
Now that we've covered the elephant in the room, we can now dive into a side-by-side comparison of each company's software, hardware & post-sale service.
Software Features: Clover vs Square
It's important to note that both companies offer cloud-based solutions, meaning that you don't need a physical, on-site server in order to process transactions with either Clover or Square. 
The cloud-based aspect of their software also means that you have access to realtime reporting wherever you can connect to the internet. 
For this reason, legacy point of sale systems represent an old way of doing things, whereas cloud-based systems (like Clover & Square) are generally seen as more modern.
Clover has developed a series of software to help you make the most of their award-winning hardware. The diversity of their lineup includes options for every business & budget size. 
Payments Plus $4.95/month – barebones software to run transactions (no inventory or order management)

Compatible devices: Clover Go/Clover Flex/Clover Mini 
Register Lite $9.95/month – core register software to run transactions & manage inventory/orders, the budget-friendly option for retail environments

Compatible devices: Clover Go/Clover Flex/Clover Mini 
Register $39.95/month – robust register software to manage the hustle & bustle of your day-to-day, perfect for a fast-paced retail environment

Compatible devices: all Clover models (must have additional Clover device to use on Go) 
Counter-Service Restaurant $39.95/month – restaurant software specifically made for counter-service restaurants

Compatible devices: all Clover models (must have additional Clover device to use on Go) 
Table Service Restaurant $69.95/month – restaurant software specifically made for table-service restaurants

Compatible devices: all Clover models (must have additional Clover device to use on Go)
Third-Party Applications
Clover features a third-party app market through which you can streamline your daily processes. Employee time tracking. Payroll. And even marketing. 
Whichever business task you need to fulfill, the Clover App Market has the perfect tool for you. Notable third-party applications for Clover include but are not limited to:
Best Employee Time Management app – Time Clock by Homebase
Best Payroll & HR app – Gusto 
Best Scheduling app – Appointments Pro
Best Marketing app – TAPLocal Marketing by TAPLocal
But Clover's third-party app selection doesn't stop there. You can browse the Clover App Market here. 
Square has a suite of software that parallels the options offered by Clover. Oftentimes, we hear people saying that "Square is free". And while that may be true, the freemium version often doesn't include key features that you need to run your business. 
Square Point of Sale Free – basic point of sale software that allows you to run transactions
Square For Restaurants

Free – no table mapping or seating management, limited reporting
Plus $60/month – table mapping & seating management, full reporting
Premium Starting at $299/month

Square For Retail

Free – no exchanges, limited inventory management, limited reporting
Plus $60/month, exchanges & extensive inventory management
Premium Starting at $299/month

Square Appointments

Free for individuals
2-5 Employees $50/month
6-10 Employees $90/month
Third-Party Applications
Square features a third-party app market as well, called the Square Marketplace. However, their offerings are somewhat limited. Primarily, you'll find apps that offer integrations for online shopping carts (WooCommerce) or marketing apps (Mailchimp).
The main reason that Square's app market is limited is that they want you to use their add-on services which Square offers for an additional monthly fee.
Square Team Management
Square Loyalty
Square Marketing
Square Payroll
Keep these extra costs in mind when deciding whether Clover or Square is the best choice for your business.
Conclusion On Software: Clover POS software is cheaper in the long run & provides access to a more extensive app market.
If you're interested in versatility, then Clover is the better option for you, especially with the hundreds of apps that the Clover App Market offers.
In addition, it's important that you are not fooled by the "freemium" versions that Square offers. For one, they're extremely limited in the features that they offer. Secondly, if you ever do choose to upgrade to a paid software plan, you'll end up paying much more than you would with Clover. 
Not to mention that Square's processing fees are high compared to TAPLocal's for example. The costs add up, making Square the "simpler" option only at the sacrifice of helpful features that Clover offers. 
Both Clover and Square showcase robust sales reporting and inventory tracking capabilities as well as mobile applications to access reports on the go. 
For the most robust reporting capabilities, Clover's Register ($39.95/month) & Square's Plus options ($60/month) are the best choices.
In the case that you think reporting isn't that important, understanding your customer's spending patterns can mean the difference in delighting them & offering mediocrity. Not to mention that a proper reporting tool can save you & your accountant a huge headache when preparing your books. 
POS Hardware: Clover vs Square
When it comes to the appearance of hardware, the Clover POS vs Square debate depends on preference. Both have minimalist designs. However, Clover POS offers a white appearance with a brushed steel accent. 
The appearance of Square's hardware is similar. However, the Square Register has a matte black finish. Nevertheless, both are sleek. 
These differences may mean nothing to you. However, for some business owners, the appearance of a POS system makes a big difference. Since a POS sits prominently at the check-out counter, it has the power to give off a modern vibe. 
Clover POS Payments Devices
The price of Clover hardware depends on which Clover partner you process payments with.
Clover Station – robust counter-top POS (cash drawer and receipt printer included)
Clover Mini – compact point of sale that packs a punch
Clover Station + Mini – POS devices for both sides of the counter
Clover Flex – accept payments & print receipts with a single handheld terminal
Clover Go – mobile reader turning your phone or tablet into an on-the-go POS solution
Square Register – $799.00 – flagship counter-top POS
Terminal – $399.00 – mobile terminal
Stand – $199.00 – stand and reader for a tablet (tablet not included)
Reader for Contactless and Chip Payments – $49.00 – mobile reader (with chip and contactless)
Reader for Magstripe – First Reader Free – mobile reader (no chip or contactless)
Insider Tip: The additional monthly fees associated with Square add up quickly. Clover POS, on the other hand, comes with a lot of helpful features out of the box so that you simply power your device on & start processing payments.
Conclusion On Hardware: Clover hardware is like adding a dependable, multi-talented member to your team.
If you've ever come into contact with Square's mobile reader, then you know that the little piece of plastic never wants to work. The device's performance just comes to show that, for some things, it's better if you pay, especially when it comes to credit card readers that you rely on to run your business.
Clover, on the other hand, is built to withstand your busiest days. Take a word for it. We do the payment process for the largest car auction in the world, The Barrett Jackson Car Show. 
Each year at the Scottsdale show alone, we provision over 100 clover devices. At the 2020 show, processed nearly 130,000 transactions over the course of 8 days. Time & time again, we heard from the bar staff that Clover was intuitive & easy to use. 
For the full client success story, visit our blog. 
Clover POS allows you to process with a huge network of merchant services providers across the nation. Therefore, the processing fees for Clover users varies from user to user.
Want our advice? Find a payment services provider that reduces the number of hands in your pocket while increasing the value offered to you by your payment solution. In order to do this, work with a payment facilitator that offers Clover POS at a discount. 
Learn more about our payment facilitator program here. To give you an idea of the value we offer, our fees for an in-person transaction is 2.55% + $0.10. 
Whereas Clover POS allows you to process with many merchant services providers, Square requires that you process with them in their all-in-one payments solution. Therefore, when you partner with Square, you are at the whim of their processing costs.
Nevertheless, Square offers the following flat-rate pricing structure on all card types:
Square Register and Square Terminal – 2.6% flat rate + $0.10 per transaction
Find out how to get 2% flat rate payment processing with TAPLocal.
Customer Service & Support
Square offers 24/7 support for paid software customers only. As for Clover customers, your main point of contact will generally be the company that you process payments with. We, at TAPLocal, try to bring a small company feel to our services so that our clients don't get "lost in the mix", especially when it comes to your payments. 
Once you set up an account through our online portal & receive your payments device, we'll then reach out to you to train you on Clover & make sure everything is running smoothly. From then on, we're never more than a phone call away should you need assistance, advice or simply someone to talk to.
Learn more about our Direct Payments Program, tailor-made for business owners like you who are everything but square. 
We, at TAPLocal, have committed ourselves to revolutionize the merchant services industry by making payment processing transparent and affordable for the modern business owner. We offer free Clover payments devices and flat-fee unlimited payment processing to our clients. 
For more information, visit our new packages page. For more articles like this one, visit our blog.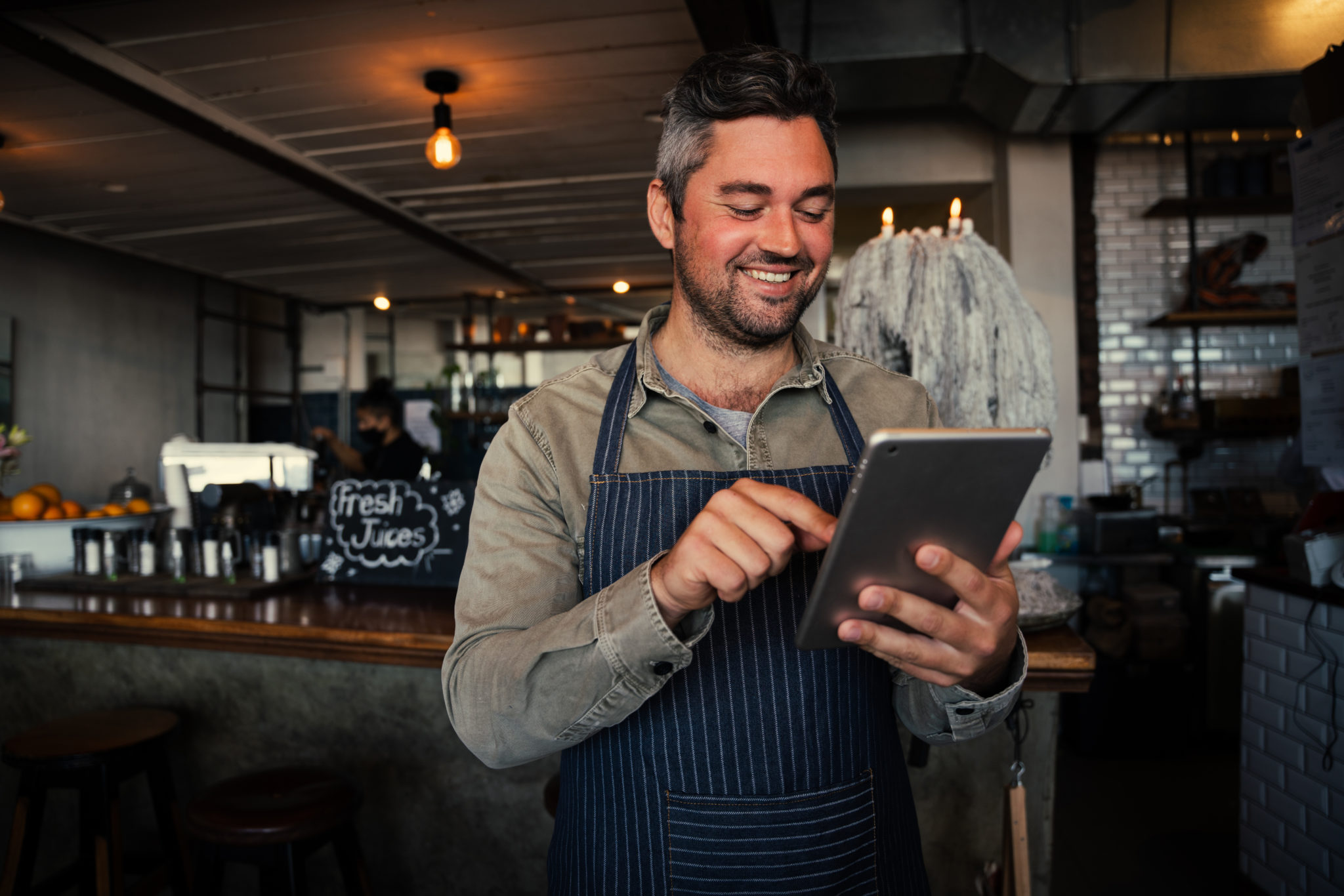 The worst action is inaction! Our team is ready to find your next big move. Over 20 years of experience means we have the tools to get it done in your local market.