Best Clover Apps For Quick-Service Restaurants
As a restaurant owner, you have a million things to manage daily (not to mention planning for the long-term developments you envision for your business). As a result, you need to simplify things when you can. In having Clover, you have already simplified your payment processing solution. Go the distance and get the most out of your Clover point of sale system through its extensive app market.
Sure. There are thousands of applications built for business owners. Many of which are built with the nuances of the restaurant industry in mind. To spare you the trouble of trial and error, here are 4 must-have Clover apps that have proven to be life-savers for our clients in the quick-service restaurant space.
1. Time Clock by Homebase
While there is no app that will hire and manage your employees for you, there are apps that can simplify your employee on-boarding, tracking, and payroll processes.
Oddly enough, most time clock management applications on the Clover App Market do not make employee time tracking any easier. In fact, some have restaurant owners going back to punchcards and I'm not even joking (I wish I was).
Fortunately, Homebase delivers in all areas. We even used the app ourselves when we had hourly employees and tell our clients who work with Clover POS to install the app.
Nevertheless, when determining the value each offers, you need to take two components into account:
How intuitive is the application for your employees?
Does it simplify your own processes in the back office?
Features & Functionalities
Homebase has many features that simplify your processes as a business owner/manager. From automated shift reminders to GPS tracking and in-app messaging, Homebase has revolutionized the way employee time is tracked.
With employee-centered features, such as in-app shift change requests, Homebase does more than simplify the clock-in/clock-out process, it connects teams and makes them more efficient.
Management-centered features include job posting, application management, and integrations with payroll softwares. Another primary benefit to employers and managers is 24/7 access to the dashboard through a mobile application, which allows you to be as hands-on as you want from anywhere in the globe that you can access the internet of course.
Homebase is free, which is amazing for saving managers and employers an average of 5+ hours per week. Especially for local restaurant owners like yourself, you need to save money and time when you can. Homebase surely saves you both, making a must-have Clover app for your quick-service restaurant.
2. Menufy Online Ordering by Menufy
Most local restaurant owners may think that online ordering is out of reach. However, by not offering online ordering, you are alienating those individuals that prefer it.
Luckily for you, the Menufy Online Ordering App directly integrates with your Clover POS system, making online ordering a reality for your business. Menufy also
Some people may want to browse your menu and customize their orders for 25 minutes. For families, online ordering is especially helpful because ordering can become stressful when every member has certain diet restrictions and preferences. Having to relay a complex order over the phone only intensifies the ordering process for the customer.
In addition, transmitting complex orders directly to your POS system is much more efficient than entering the information yourself. Another benefit of direct integration is the elimination of user error on behalf of your employees. At the end of the day, you will be held to the fire if mistakes are made, no matter the complexity of the order.
Features & Functionalities
As mentioned, Menufy directly integrates with your Clover POS systems so that online orders are directly queued in your POS and sent to your kitchen printer. In addition, credit card payments process as normal through your POS.
Another primary feature of Menufy is an integration with DoorDash, a food delivery service.
Therefore, Menufy does not only make online ordering a reality, it also opens another avenue of revenue for your quick-service restaurant with home delivery. The best part is that you get a delivery service for your quick-service restaurant through the notable Clover app without all the hassles and costs of in-house employees.
3. Cross Sell by Zaytech: Perfect Add-On Clover App For Quick-Service Restaurants
As mentioned in our blog post on point of sale marketing, you need to make the most of your interactions with customers. For a quick-service restaurant like yours, that means you make the most of your interaction with customers at the point of sale. Instruct your employees to make recommendations, inform, and up-sell customers. While it may be difficult to ensure that your employees are recommending the right products, the last thing you want to do is micromanage. Instead, let your Clover do it for you.
Features & Functionalities
Cross Sell by Zaytech coaches your employees on the additional products to offer customers at the point-of-sale. You enter the triggers that will prompt a message to your employees. If your Nana Pudding Milkshake goes great with your Frito Pie Burger, then enter a message to display a prompt to ask if the customer wants a Nana Pudding Milkshake when they order a Frito Pie Burger.
The system is fully automated and user-friendly. It won't slow down your system. It does one thing: helps your employees drive sales. And guess what? It's free and you get unlimited triggers. What else could you ask for in a quick-service restaurant Clover app?
4. TAPLocal Marketing by TAPLocal
The TAPLocal Marketing Clover app adds enterprise-level text message marketing and reputation management capabilities directly into your Clover point of sale system. Not only does the app allow you to create, launch, and monitor SMS campaigns directly from your POS, it also allows you to generate, monitor, and respond to online reviews directly from your dashboard.
If you know that Tuesday is your slowest day, why not send out an offer on that to increase foot traffic on that day and level off day-to-day revenue?
You may be asking how do you opt-in customers? Well, you have a couple options.
For one, you could opt-in customers through a customer-facing tablet, which sits on your check-out stand, making it great for quick-service restaurants. Customers can also opt-in by texting your custom keyword to our proprietary short-code.
By partnering with TAPLocal, you also get 100 free personalized gift cards.
As a local business owner, you need to do things that your corporate competitors are doing in order to maintain a holding in the market and effectively compete. TAPLocal does just that in their Clover app.
For more information on TAPLocal's text message marketing and review generation system, visit our webpage or download the app on your Clover point-of-sale system to get started.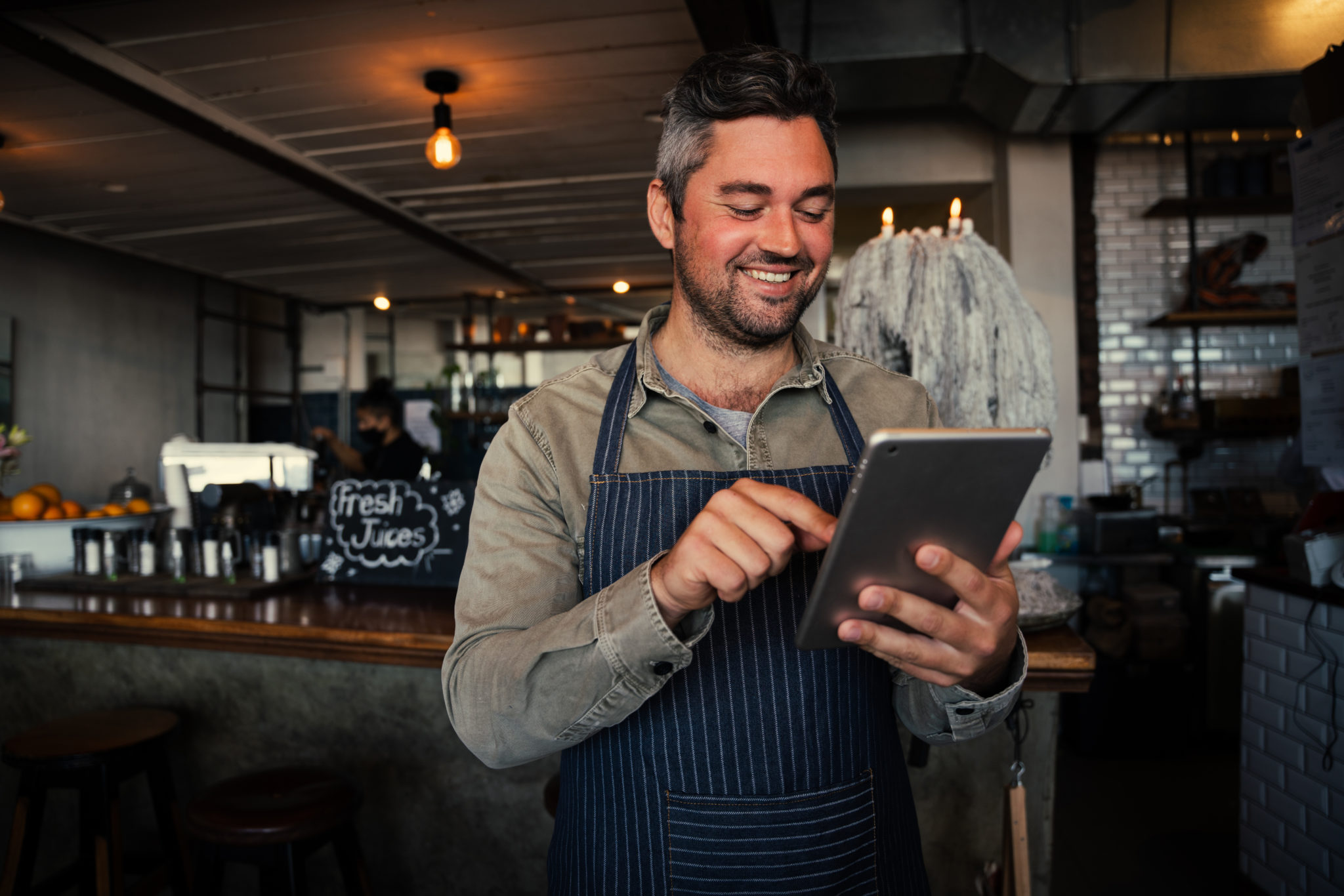 The worst action is inaction! Our team is ready to find your next big move. Over 20 years of experience means we have the tools to get it done in your local market.